SEATTLE, Feb. 10, 2021—Wild critters in the galleries would usually give the Museum's Senior Curator cause for concern, but a recent visit by a trio of furry, feathery and scaly animals warmed his heart. Harry the skunk, Cisco the Harris's Hawk and Pecos Bill the Trans-pecos ratsnake made a pre-Valentine's Day visit as part of the Zoo's Wild at Heart series celebrating local cultural organizations. Harry, Cisco and Pecos Bill are ambassador animals at Woodland Park Zoo who star in the zoo's educational programs, help build empathy for animals, and promote ways to take action for wildlife.
See cute video of the Ambassador Animal's visit here.
"Virtually everything at the Museum ties directly back to humankind's ancient desire to fly like a bird, and it's a connection everyone feels around our fantastic flying machines," said Museum Senior Curator Matthew Burchette. "And when you check their names, it's a zoo! There's a Robin, a Falcon, a Snipe, a Camel, a Pup, a Dove and the list goes on and on. It's entirely natural to bring some living brethren to the Museum."
The Museum covers 23-acres, so the ambassadors were kept comfortable in the main, Great Gallery. Cisco, who has been flying in zoo educational programs since 1989, got a bird's eye view of the aircraft, while Harry checked out the Lockheed M-21 Blackbird, developed by the company's legendary and aptly-named Skunk Works engineering team. Both met the Museum's resident Astronaut for memorable photo ops.
"Animals have inspired human innovation and creativity, and hopefully the reverse can also be true – that human innovation can inspire care for animals," said Woodland Park Zoo Animal Curator Rachel Salant. "It's fun to see these animals being enriched and exploring a new space. But it's also a reminder about the connection between the world that we've built and the world we're charged with protecting."
And Pecos Bill? This snake went straight to a plane. And while in the cabin of an early 737 airliner, proved the warning, "be careful opening the overhead bins, as contents may have slithered."
Visit The Museum of Flight and Woodland Park Zoo social media for photos, behind-the-scenes videos, and interviews with the Museum's Senior Curator Matthew Burchette sharing fun facts about the links between aviation and animals.
See video here.
The Wild at Heart series recognizes that arts, science and heritage are the heart of Seattle, a vibrant and rich community of cultural partners - from artists to actors to animal lovers, museums to musicians, and singers to scientists. Wild at Heart celebrates the community's unique and collective contributions that enliven the city. The Museum of Flight was the second of 12 monthly trips from the Zoo to local attractions in the 2021 series.
The Museum of Flight and Woodland Park Zoo are both members of Inspire WA, a statewide coalition that champions advocacy and resource development for Washington's cultural sector, and works to strengthen communities by increasing access to science, heritage and arts. Learn more about Inspire Washington at www.inspirewashington.org . Both organizations are also members of the Puget Sound Attractions Council.
To learn more about Wild at Heart, visit www.zoo.org/together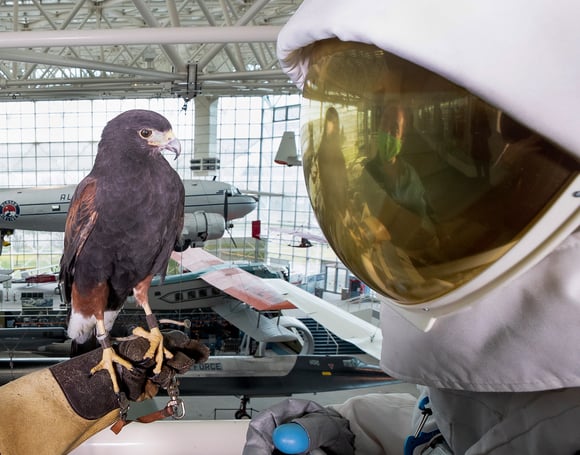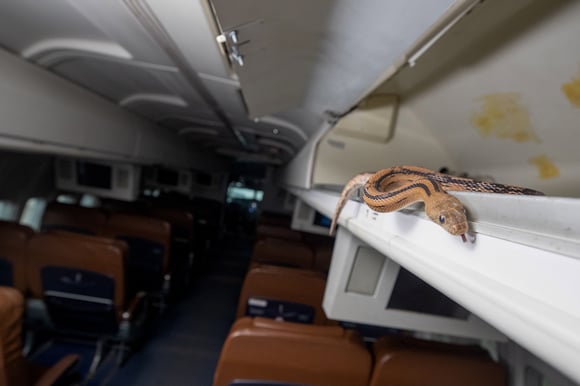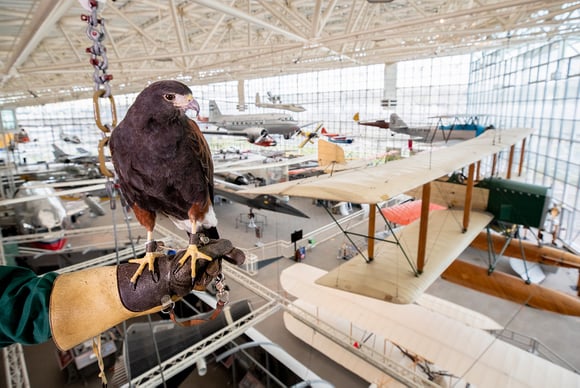 Photos: Top - When Harry met Astronaut. Cisco and Astronaut. Pecos Bill in airliner overhead bin. Harry with Skunkworks Blackbird in background. Woodland Park Zoo's Lead Animal Keeper Regina Smith with Pecos Bill on plane. Cisco gets a bird's-eye view. All photos credit Jeremy Dwyer-Lindgren/Woodland Park Zoo.